Ooooeeee!! I'm not doing so well with this December Daily thing!!
Oh well...here we go...
Today we finally put up the Christmas tree!! Woohoo!
I put some music on and turned the TV off and everyone had a great time!
Steven was so cute as it was his first time that he could really help to decorate and the concentration on his face as he carefully opened each bauble's string was so gorgeous!
Kalan really didn't know what was going on but helped anyway!
Alysha and Taylah were both in their element! throwing tinsel at the tree, dancing around the room and basically achieving very little!
I took some 'Christmas hat' photos which I seem to do every year..but Kalan wouldn't cooperate so maybe tomorrow for him.
And then I got some video of the 3 older kids singing Jingle Bells! It was very 'cute'. lol
Now to recap yesterday ...I did absolutely nothing all day! Alysha and Taylah were with Grandma till around 5 but still got their Christmas fix because Grandma took them shopping to buy the rest of us presents! Yay for Grandma!
That's about it. I didn't do anything Christmassy yesterday, didn't take any photos...but did blog a little so I'm not going to get too upset at myself!
Anyway it is getting very late here and I finished another page so I'm off to bed. Have a great day/night. :)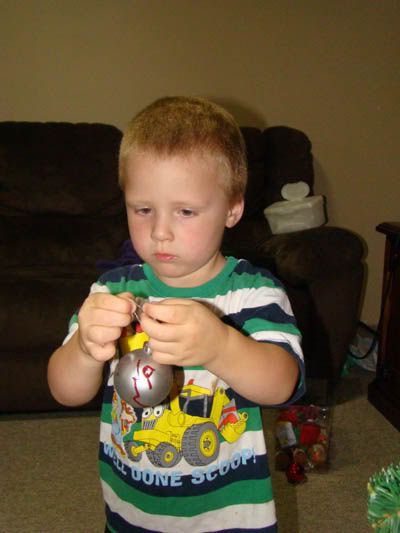 Steven concentrating on opening a bauble string.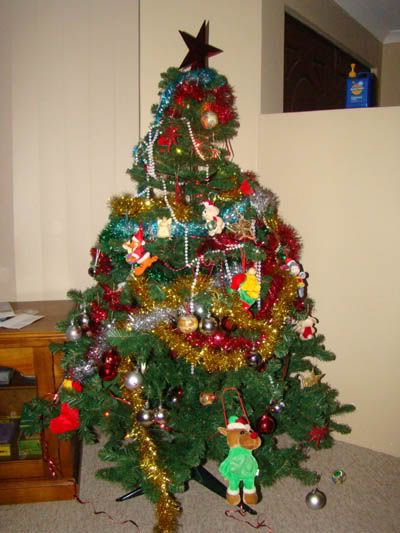 The 'beautifully' finished tree!